Do you ever have so many thoughts running through your head that you wish you could just make them into a picture book you could flip through?
I've been obsessed with these long hippie-style dresses. I wish it were spring. Even if just for one day.
A recent search of Amazon.com left me drooling over more than a few items I would love to obtain. Again, I am such a hippie when it comes to these things.
Here's Alexis Bledel returning from a film festival in Canada. Isn't she the cutest? I can't believe she's 28 years old. I always had this image of myself approaching 30 with frump. I hope I can still look as fun as Alexis at 28. Makes me miss old Rory.
Well, I can't wait for December 21st. I need some Emma Stone magic in my life pronto.
J'adore. One day my room will be this color. And I will construct a similar gypsy-style bed.
I've been dreaming of a bohemian apartment. (Okay, and a White Christmas). But seriously, I just can't live in my parents' house much longer. It's time for me to put my big girl pants on and buck up. That's not to say that I expect any apartment I could afford in the near future to look anything like these above. But a girl can dream. And be inspired.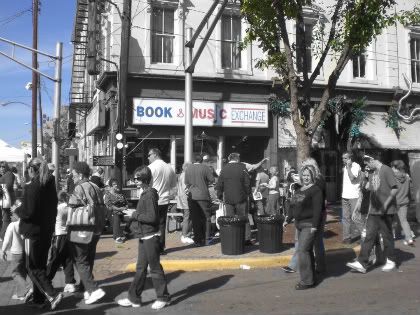 I wish to one day obtain a professional-ish camera. Like a Canon or a Nikon that has a protruding lens and a strap you wear around your neck. I love taking photographs and love capturing scenes of life that I can relive over and over again; in the moment and in retrospect. Just like writing. Certain cameras just don't capture what your own soul sees. I edited the above photos from my personal album. One's from this September, a few days after my 21st birthday, of a bridge in the city I call home. The other is from over a year ago at a fall festival. Carnivals and festivals are just the perfect places to snap photos. People exit their seemingly stressful lives, if only for a few hours, and retreat into the whimsy of childhood. The food, the lights, the colors, the rides, the sounds, the smells. It's all a combination for impending magic. You just have to capture it.